Lighting control is projected to be an extremely fast-growing sector over the next five to ten years. In fact, according to a recent builder technology market study conducted by the Consumer Electronics Association, lighting control represents the second-biggest increase of any home technology subsystem, eclipsing home theatre, multi-room audio, and structured wiring!
Lighting control takes many forms but most fall into two categories—local and whole-house control. The light switch, for instance, is a type of local lighting control. An occupancy sensor detecting motion in a room is another example. Additionally, most of us are familiar with dusk or daylight sensors and lighting timers.
The whole house approach is when lighting for the entire home is managed by a central light control panel system. These systems can be designed to manage lighting for different times of the day, special events, or occasional occurrences. Often, automated lighting control devices are integrated with other security systems, IP cameras, and motorized blinds control.
Here are some of the things you can do with a lighting control system:
Control virtually any light fixture, outside light, or lamp in your home.
Monitor & control your home's lighting from your iPhone, iPad, or Android device. Turn lights automatically ON at sunset and OFF at sunrise.
Turn lights ON when a room is occupied and OFF when it's unoccupied.
Use motion sensors to simulate a presence in the house when away on holiday.
Set the lights to dim when watching a movie or TV channel.
Adjust the dim levels of particular lights based on outside brightness levels.
In the event of a fire, all lights are turned on to assist in evacuating the house.
Main Benefits of Automating Lighting
There are three headline benefits associated with automating your lights: energy savings, improved security levels, and improved ambiance.
1. Lighting Control Saves You Energy
Over the past number of years, awareness of how green technologies such as light control systems can reduce homeowners' energy consumption levels has increased dramatically. Not only can the benefits of a whole-house lighting system be seen but the effects can be felt in the wallet as well. According to recent research reports, lighting accounts for 10 to 15% of our household electrical bills. Unfortunately, 50% of this energy is wasted by inefficient lighting sources or careless consumers. With the steady rise in energy costs, most homeowners would agree that it's fiscally savvy and environmentally responsible to deliver the correct amount of light when and where it is actually required. The ability to use a lighting control system to minimize the environmental impact of residential units is seen by many as one of the primary reasons why the demand for lighting control solutions has surged in recent times. Here are some specifics with regards to the energy-saving argument associated with lighting control systems:
Dimming lights reduces overhead costs and slows the rate that light bulbs deteriorate. Most houses around the world use standard ON/OFF light switches. So no matter what the light levels are in a room when a switch is toggled on, the light bulb is drawing the maximum amount of power and operating at 100%. Replacing ON/OFF switches with dimmers means that you can adjust the levels to the desired level of lighting. For instance, most light loads can be dimmed to approximately 70% before people will even notice the difference. This not only cuts down on the cost of using the light bulb but also helps to create the right atmosphere in a room if included as part of an automation scene. Additionally, the soft ramping up feature of lighting control systems helps to extend the bulb life even further! Further statistics on the effect that dimming has on energy savings and incandescent bulb life is described below.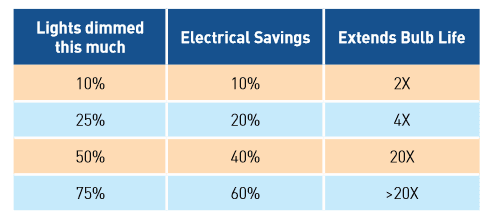 Scheduling allows you to automatically turn ON and OFF lights at particular times of the day. Such capabilities can be optimized to reduce energy consumption levels at home.
Sensors can be used in conjunction with a lighting control system to ensure that lights only come on when a room is occupied or when natural light levels are too low to see properly.
Ease of use: Rather than wiring a bank of switches on the wall to control multiple lights (typical of a traditional lighting system in a restaurant); you can set up a single button on both the wall and within your lighting control app to control multiple lights – all at once.
2. Lighting Control Improves Security & Safety Level
Perhaps the greatest lifestyle benefits of a lighting control system are the safety and security features. The types of security features provided by many of the modern lighting control systems can include:
Keyless remote lighting control fobs that are programmed to turn ON one or all of the house lights, open the garage door, and even deactivate the security system during the arrival of the homeowner.
Lighting scenes can be programmed to turn lights ON and OFF randomly when people are away on holidays, discouraging potential thieves from entering the premises.
Lighting control systems can also potentially be integrated with other security systems incorporated into the housing structure.
3. Lighting Control Improves Convenience & Ambience Levels
This is more of a 'soft' non-measurable benefit that is inextricably linked to lighting control systems – higher ambiance and comfort levels. Scenes that allow you to set pre-determined lighting levels for multiple light fixtures in a room, or in fact all over the house, is one of the key features of lighting control systems that people use to make life more convenient. In addition to utilizing scenes, lighting control can also help to add an element of ambiance to your home. For instance, when our family sits down in the evening to eat, I tap a button on our iPad and instantaneously create an atmosphere by dimming the kitchen and dining room lights to 60% intensity levels. In addition to the above three benefits, light switches used by lighting control systems typically look nicer and helps to improve the aesthetics of your walls.
Lighting Control System Options
Your options for installing a lighting control system fall into three broad categories: wired, wireless, and smart bulbs.
Wired Lighting Control
If you are building a new house or involved in some renovations and the budget permits you to install a lighting control system then you should definitely consider running some physical cable.
As illustrated in below a typical wired based lighting control system consists of four main components: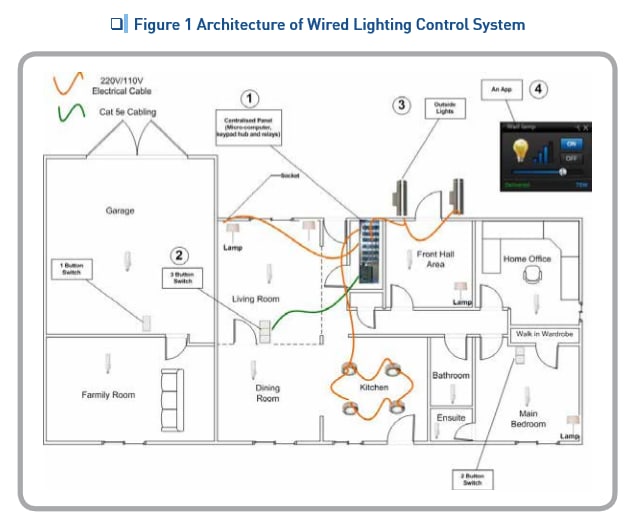 The centralized panel normally consists of three hardware modules:
An intelligent micro-computer – acts as the brains of your system.
A central control unit which communicates with a hub device that acts as a termination point for the low voltage Cat 6 cables that run from a centralized lighting control panel in your house to each of the lighting switches connected to the home lighting system
High voltage dimming relays which are connected to various types of lighting loads using the electrical power cable. These relays are also able to control non-dimmable loads such as compact fluorescent lighting fixtures and appliances.
The lighting keypads installed at any desired location in the home or business transmit ON, OFF, and Dim commands over the Cat5 cable to the centralized control panel. Each keypad can accommodate a number of buttons, any one of which may operate a load or scene. Lighting keypads are available in different guises and styles to suit the décor of your rooms. Most lighting control manufacturers also provide an engraving service that allows you to identify and personalize your light switches.
Various types of light loads ranging from incandescent bulbs and electronic low voltage transformers for in-ceiling spots to fluorescent and LED light fittings.
In addition to using a wall light switch (keypad), most lighting control systems also come with an app that allows you to switch lights and scenes ON and OFF. In addition to standard functions, these Apps also allow you to dim and set off different lighting scenes.
How to Install a Wired based Whole House Lighting Control System?
Installing a properly planned wired home lighting control system can be done with remarkably little effort. An introduction to the steps associated with planning and installing a wired based lighting control system is briefly outlined below:
Planning – Wired lighting systems are usually planned and designed during the development of architectural drawings for the home. The planning for the location of various light fixtures such as in-ceiling lights and switched-wall outlets for portable lamps are all essential for proper light distribution in a home. The number of lighting circuits will depend on the size of the home in square feet and the number of family members. You need to spend the necessary planning time upfront to be sure that the system is perfectly tailored to your needs. For instance, the lighting atmosphere will be different in each of the rooms. The table below provides some guidelines for creating different types of lighting atmospheres in various rooms.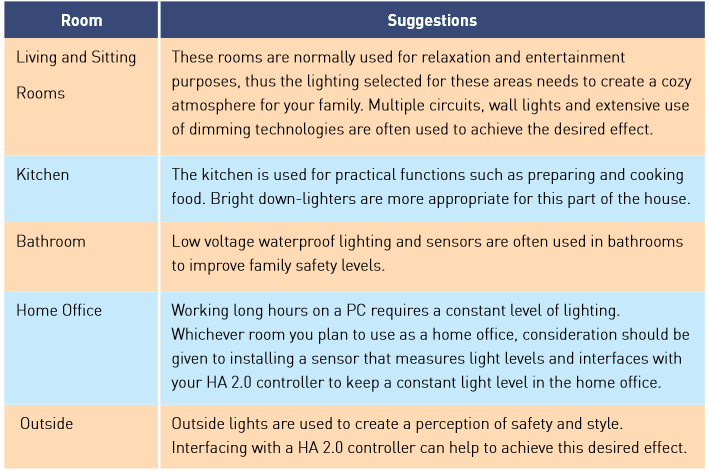 Get your electrical contractor to rough-in the necessary wiring – The incorporation of a wired light control system into a new house or apartment requires the use of low voltage Cat 5e cables that run from the centralized lighting control panel in your house to each of the lighting switches connected to the home lighting system. Rough-in consists of the following tasks, which are primarily done by your electrical contractor:
Install the centralized lighting control panel – The centralized panel is mounted in an air-conditioned space near the main electrical breaker box. A normal location would be inside a closet or utility room. The location of your panel would need to be accessible as you will be connecting to the panel at a later date with your PC to do some configuration. Also be sure to check local electrical codes for compliance, when mounting your control panel.
Identify physical locations for your light switches – You now need to walk through from room to room with your electrical contractor and mark up locations where lighting control switches and dimmers are to be installed.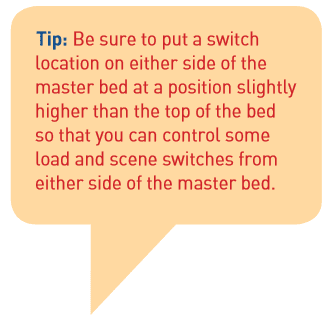 Pull the wire – When the time is right during the construction phase, your electrical contractor will use a lighting control design document, as a basis for running both high voltage and Cat5e cable back to the centralized panel.
Protect equipment from dust damage – Get your electrician to seal up the centralized panel duct tape, masking tape, or other materials so that all wire and labels will be protected from any construction damage.
Second fix and complete physical installation – When all the sheetrock (aka slabbing here in Europe), painting, and finished work has been completed, you are ready to terminate all lighting loads, keypads, and low voltage wiring.
Complete high-voltage connections – All 220V or 110V connections must be made and tested at the lighting control panel by your licensed electrician.
Keypad Installation – Install each lighting control keypad at the proper location. This will involve: crimping RJ-45 connectors on both ends of the Cat6 cables, testing connectivity, and physically installing and attaching to the backbox.
Programming and configuration – Program the system using a PC, laptop, or tablet! Here is an example of software I previously used to configure wired lighting control systems in Ireland.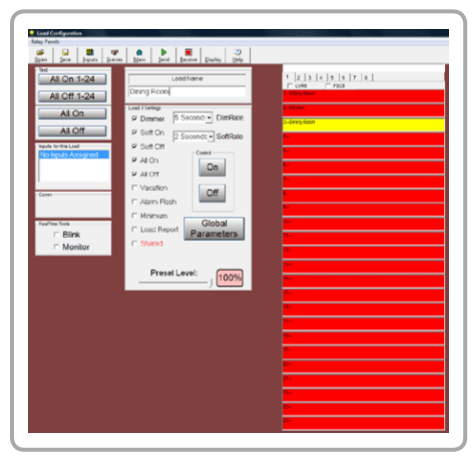 The manual accompanying your system will provide a more detailed insight into how to correctly configure your new system.
Wireless Lighting Control Systems
For houses that are already built and do not have the necessary cables pre-installed, homeowners generally opt for an easy-to-install and affordable wireless lighting control solution.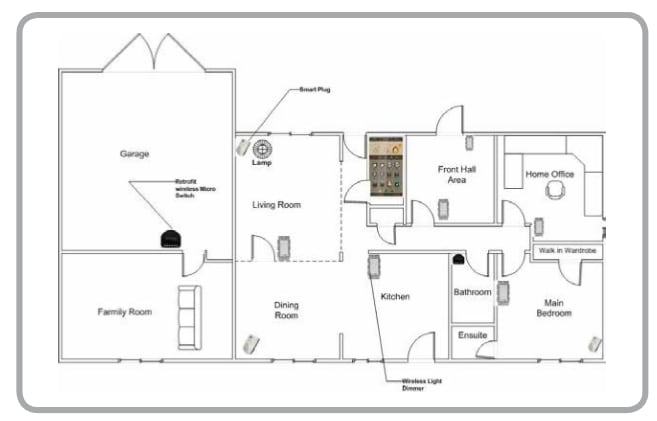 As illustrated, Smart Home wireless lighting systems typically comprise a number of smart pluggable devices, wall switches or dimmers, and micro-switches that use radio frequencies to communicate with each other and back to a mini system hub.Wireless lighting systems based on protocols such as Zigbee, Insteon, Wi-Fi, and Z-Wave require no new cabling yet offer many of the benefits of a hardwired system.
How to Install an End-to-End Wireless Lighting Control System?
In terms of installation, it is relatively easy to start building out a wireless lighting control system, and involves the following steps:
Select the lighting devices in your home that you want to control.
Purchase some pluggable wireless light modules.
Configure your modules to 'talk' with your home hub.
That's it! You can now control your in-home lighting via a smartphone or tablet device over the Internet.
Over time, you can start adding more lamp modules and if you decide to get adventurous, then start automating some of your existing wall-mounted light switches.
There are two distinct approaches to incorporating existing lighting switches into your in-home automation system:
Warning: If you are not knowledgeable and skilled in working with electricity, do not execute the steps below. Instead, issue the steps outlined below to a certified electrician or someone who possesses the correct skills.
Approach 1: Replacing the existing light switch
Turn OFF the local electrical power feeding the switch location and verify that there is no power present using a voltage meter or test light.
Remove the existing switch. Note which wires are the Earth, Live, Neutral, and Switch Wire. Please note that in older homes, particularly in the UK and Ireland, there will only exist an Earth, a Live, and a Switched Live. Also, the colors of the wires can vary from the standard – particularly for older properties.
Connect your wireless lighting control dimmer or switch to the appropriate cables.
Test and re-fit switch or dimmer back onto the wall.
Register a new switch on your automation controller.
Approach 2: Retaining the existing light switch and adding a micro-switch module
The steps involved with installing a micro-switch are more or less the same as completely replacing the light switch.
Which to Choose: Wired or Wireless Lighting Control?
The table below explains the characteristics of each approach: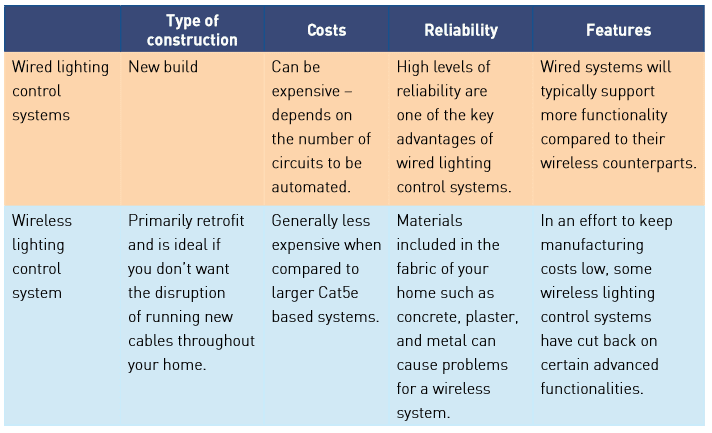 As you can see from the table above, wired lighting controls are preferable if you are building a new home. They are typically more expensive but have advantages over wireless systems in terms of functionality and reliability. Wireless is great if you have a limited budget and you want to start small and grow the number of automated switches over time. When going down the wireless route, you need to be cognizant of potential issues such as range and interference. As wireless technologies mature these issues are becoming less significant.
Smart Bulbs Based Lighting Control Systems
Installing smart wall switches and wall dimmers throughout a house can be costly and tedious on some occasions because it often needs to be done by a qualified electrician. If that's a consideration, then you may want to look into using Smart bulbs to 'smartify' your in-home lights.
In many countries around the globe, governments have mandated the phasing out of incandescent light bulbs. Compact fluorescent lamps (CFLs) and LED (light-emitting diode) bulbs are poised to take the place of traditional incandescent bulbs.
Although the installation of these bulb types modernizes your home lighting system and cuts down on energy usage, some people are going one step further and installing 'Smart Bulbs' in their houses.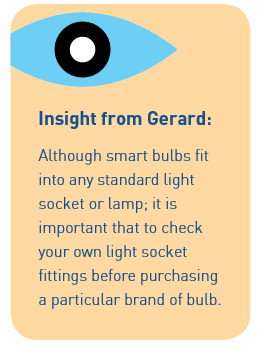 A smart bulb is best described as a wireless LED bulb, which is designed to allow any member of your household to use their own smartphone or tablet device to control the lights. Furthermore, for convenience and safety purposes, existing conventional wall switches can also be used to turn your smart bulb ON and OFF – useful if your phone is not at hand.
When compared to the older incandescent bulbs, it gives you more control.
Basic features include allowing you to use your smartphone, tablet, voice assistant or PC to:
Adjust Brightness – Sounds similar to your light switch, there is however one subtle difference – you can do this stuff without walking up to the wall.
Setup Lighting Scenes – This feature allows you to precisely configure which lights come on at particular intervals and how they come ON and OFF. Examples of scenes include:
Dimming all the smart bulbs around the house when the family is going to bed. Thus eliminating the need to go from room to room turning off lights.
Turning lights around the house to automatically come on in the evening time and OFF in the morning.
Light has been proven to enhance people's health and wellness. With smart bulb light scenes, it's possible to adjust light colors in a room to enhance the desired mood – relaxation, party, and reading are common ones.
Control your Home Lights over the Internet.
Remotely turn your smart bulb(s) ON and OFF. Very useful if:
You are at work and unsure as to whether you forgot to switch the lights off when going out the door.
You live in the country and don't like coming home to a dark house. Smart bulbs fix that problem; by allowing you to turn lights ON just before you arrive home,
Apply Color Changing – The vast array of colors supported by LEDs built into smart bulbs can be used to design creative lighting shows and effects.
Increase your Families Safety and Security Levels – Rather than leaving lights on when away from home, some Wi-Fi smart bulb systems allow you to randomly schedule your lights to go ON and OFF at different times. Good, if you are security conscious and want people to think you're still at home – particularly useful in confusing would-be intruders. Turning on your smart bulbs when the alarm is activated is another security measure that could be implemented once you install smart bulbs. More advanced functionality include:
Geofencing – Some systems can detect when you're nearby and automatically turn ON or change settings. With geofencing, you can simply walk in the door in the evenings and the lights of your choice will automatically turn ON. No need to fumble in the dark for a light switch or indeed your smartphone. Geofencing can also be configured to automatically turn OFF lights as you leave home. Pretty cool when you are rushing out the door in the morning.
Integration with other Smart Home Systems – Some advanced smart bulbs can be configured to interface with multi-room music and alarm systems.
Customizable Ramp Rates – Selected smart bulbs to allow you to customize the speed at which the light fades ON and OFF. The default ramp rate is typically between a quarter and a half a second.
Timer Capabilities – With this capability, you can set your lights to come on at a set time. For instance, a smart bulb timer can be set to gently wake you up in the morning. Notice the word 'gently', which basically means that your bedroom smart bulbs can be configured to gradually brighten over time and wakes you up in a rather more civilized fashion. Another popular use is to fade the light off at bedtime in the baby's room.
Integration with IoT Web Services – Some smart bulb suppliers have built interfaces with a range of different IoT (Internet of Things) services and devices. IFTT (If Then Than That) is an example of a Web service that can be configured to 'talk' with your in-home smart bulbs and carry out certain actions based on events. Here are some examples:
Changing the color of your smart bulb when it's raining outside.
Setting the lights to blink when you receive a social media alert such as a tweet, Facebook message, Google+ post, and the like.
What's Inside a Smart Bulb?
The role of each component inside a typical smart bulb is discussed in the following sections.
Light Emitting Diode (LEDs)
These are used as the light source because of their many advantages over traditional incandescent light bulbs, including:
Lower energy consumption.
Their abilities to span the color spectrum.
Lifespans that last up to 30,000 hours of usage.
Similar quality of light in terms of brightness and color to Incandescent and Halogen bulbs.
Smart bulbs use different LED color types, which can be used to create almost any color imaginable.
An Embedded Communications Module
Each bulb has it's own built-in finger-nailed sized communications module that allows the bulb to communicate with a gateway device or directly with your smartphone or tablet.
A Light Diffusing Dome
As the name implies the other dome or bulb enclosure is used to diffuse the light emanating from the LEDs into your room.
A Heat Sink
Research has shown that one of the factors that have a major impact on the lifespan of an LED bulb is its heat sink. The type of material used by your smart bulb varies between vendors. Ceramic and aluminum are examples of materials used by smart bulb heat sinks.
The Base
This part of the smart bulb supports different form factors…
Edison Screw
Bayonet Cap
U10 Downlights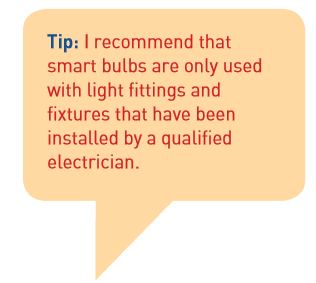 A Reset Switch
Some smart bulbs include a factory reset button. Useful if you are experiencing some problems with the bulb – flicking this button will return to its original factory default settings.
Types of Smart Bulb Systems
There are four main types of Smart Bulb systems available to consumers at the time of writing, namely Zigbee, Bluetooth Wi-Fi, and INSTEON.
Zigbee Smart Bulbs
As illustrated an in-home Zigbee based smart bulb system consists of the following: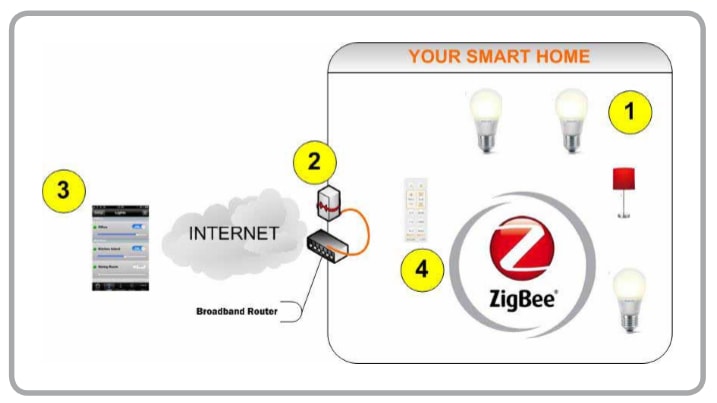 LED Light Bulbs – The LED bulbs communicate with an Internet bridge device using the low-power, low bandwidth Zigbee protocol.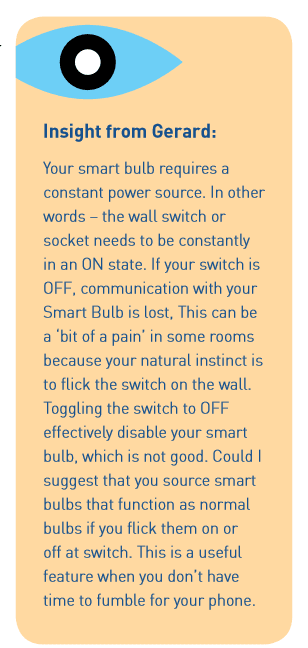 A Bridge – The bridge connects into your existing broadband router and is needed to control the bulbs both locally and across the Internet. From a technical perspective, the gateway translates signals between your Wi-Fi-connected smartphone and the smart bulbs which use the Zigbee Lightlink protocol.
Hand-held remote – Some Wi-Fi smart bulb systems include a plastic remote that is typically used for basic control, such as turning your smart bulb from ON to OFF and vice-versa as well as dimming. Using the hand-held removes the hassle of unlocking your smartphone, launching an app, and then controlling your bulb.
An App – Although some people have a preference for a standard push-button remote control, most people are opting to use an App to control their smart bulbs. Smart bulb apps allow you to:
Turn your lights ON or OFF remotely.
Refine the tone levels of your smart bulbs.
Create various types of lighting scenes.
Setting up one of these systems is pretty straightforward and involves the following steps:
Turn lights off at the wall.
Remove your old bulb.
Screw the smart bulb into the light socket.
Turn light back on the wall switch.
Plug the bridge into your wireless broadband router with the included cable and power up.
Download and Install the mobile App.
Open the app and start configuring your new smart bulb(s). Configuration typically involves adding and naming bulbs. Some apps will also ask you to assign bulbs to particular rooms in your house.
Once configured, you will be able to control your Zigbee smart bulbs directly from your App.
Bluetooth Smart Bulbs
As illustrated an in-home Bluetooth smart bulb system does not require a bridge to operate,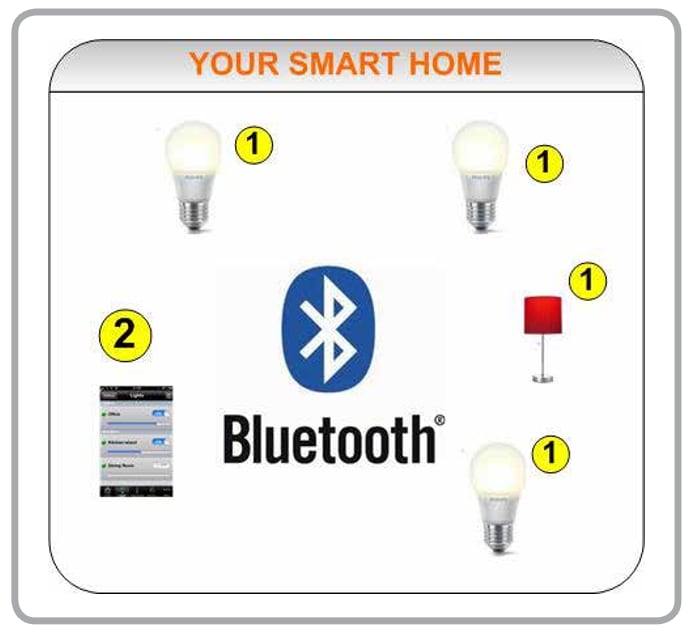 Bluetooth LED Bulbs – These bulbs use version 4.0 of the Bluetooth radio protocol for communications back to your mobile device. Bluetooth 4.0, also known as Bluetooth low energy, or BLE and marketed as Smart Bluetooth is a popular technology for many IoT products. With this system, each bulb has its own BLE module which allows the bulb to directly communicate with your smartphone. In other words, there is no need for a bridge device.
An App – Although the user interface varies between suppliers, the main screen will typically display a list of your smart bulbs and their statuses. Once you tap on a particular smart bulb icon, a slider may appear, allowing you to adjust the bulb's brightness and turn it ON or OFF. Various tabs may also be supported within the app for running lighting control scenes and configuration.
Although Bluetooth enabled smart bulbs do not require a bridge, there is one drawback – remote control over the Internet is not available. The manufacturers of these systems argue that most of the time light control takes place in the home and there are few occasions where people need to control their home lighting whilst away.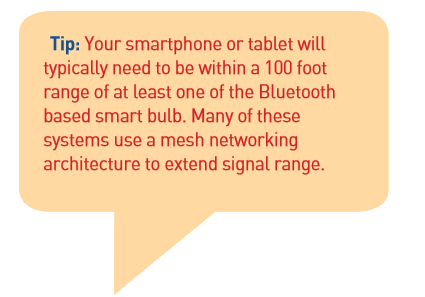 Wi-Fi Smart Bulbs
Similar to the Zigbee and Bluetooth bulbs, these bulbs can also be controlled using a tablet or smartphone app. The only difference is that your local 802.11 b, g, or n compliant Wi-Fi home network is used to communicate directly, with each of the bulbs.
So as illustrated below rather than using Bluetooth on your phone, Wi-Fi is used instead to communicate with your bulbs around the house.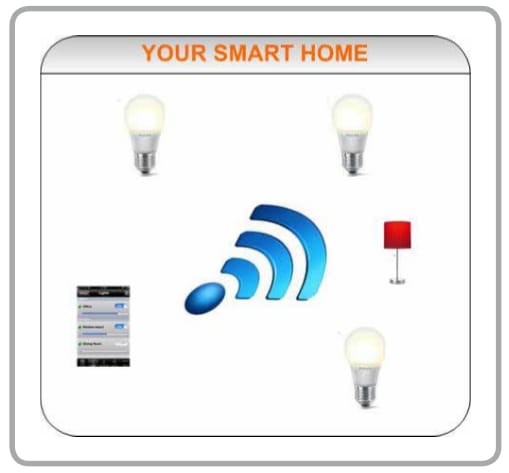 It is also worth noting on the diagram that these Wi-Fi based lighting systems dynamically nominate one bulb that acts as a gateway between multiple installed smart bulbs and your in-home Wi-Fi network. With the growing ubiquity of wireless devices in our homes, you need to be diligent in reducing the likelihood of interference affecting your Wi-Fi bulbs when they are installed. Here are some tips that could help optimize how Wi-Fi bulbs perform in your home:
Ensure that at least one of your smart bulbs is in range with your Wi-Fi router. Different materials in your home will weaken your Wi-Fi signal. Plaster, concrete, and metal are the worst offenders.
When installing, try, and locate in an open area without obstructions. If you have the bulb as a center light in a room, then obviously there is no issue. If however, you locate your Wi-Fi bulb in a side lamp that is surrounded by a large couch on one side and a wall on the other, then you could experience difficulty in sending commands to the smart bulb from your smartphone.
Try and avoid installing Wi-Fi smart bulbs in close proximity to metal surfaces.
Place your Wi-Fi smart bulb away from household devices such as microwave ovens, baby monitors, and cordless phones that operate at the same frequencies as your new Wi-Fi bulbs.
Some Wi-Fi Smart bulbs may not work with dimmer switches, so you may need to replace them with standard ON/OFF switches. Alternatively, you could leave the dimmer switched at full brightness all of the time.
Paying attention to the above guidelines should help to alleviate or cut down on performance issues that result in your new Wi-Fi smart bulbs operating below their optimal capacity.
INSTEON Smart Bulbs
As is the case with the other smart bulb types, INSTEON smart bulbs are fully controllable and support a range of energy-saving features. An INSTEON Smart Bulb home system is represented graphically below.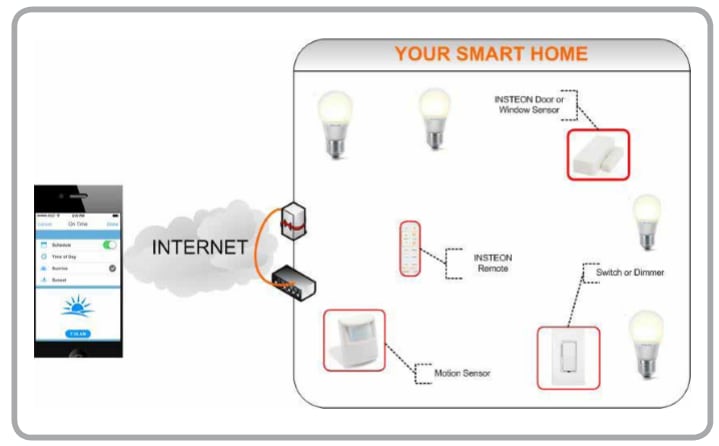 As shown, INSTEON smart bulbs typically consist of single or multiple smart bulbs that are screwed into various light fixtures around the house. Similar to Bluetooth and W-Fi smart bulbs these units can be controlled in standalone mode. However, to really experience the full power of these smart bulbs, you need to connect INSTEON bulbs to an INSTEON hub, which is connected to your broadband router. Once this is set up, you can use your smartphone to configure multiple bulbs and remotely control them directly from your mobile device.
Lighting Control as a Mainstream Product
The features and advantages of modern lighting control systems are truly incredible. Technological advancements have given us comprehensive and affordable home lighting controls that can do things Thomas Edison would have never dreamed were possible and more people are realizing and taking advantage of these benefits. Affordability and convincing homeowners that automating home lighting systems is an essential purchase, especially compared to the more obvious home control categories like home theatre and whole-house music, are the main challenges for those who want to see the mainstream proliferation of lighting control systems.
Practical Usage Examples
A lighting control system is highly customizable. Here are four examples of how our own family uses lighting control:
Implementation Example 1 – Use an App to Activate a Lighting Scene at Dinner Time
Requirement: One of the things I wanted to do with our lighting control system was to be able to tap a button on my iPhone and dim the main dining room center light level to 75% and simultaneously turn on a side lamp. This scene than would be activated most evenings when the family is sitting down to eat dinner.
The Solution: The equipment used are illustrated below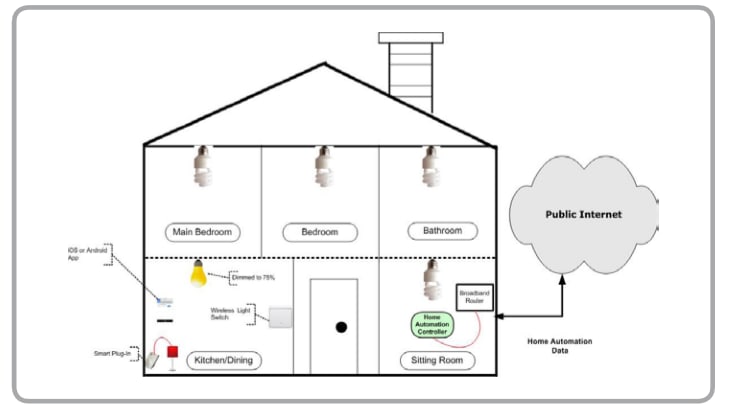 To control the overhead light a smart wireless wall dimmer was installed.
To control the lamp in the dining area, an inexpensive wireless smart plug-in module was configured.
Both wireless modules were set up on my existing smart hub,
I set up a scene on the controller called 'Dining Time'.
This scene gets activated via my smartphone app pretty regularly in our house and works really well!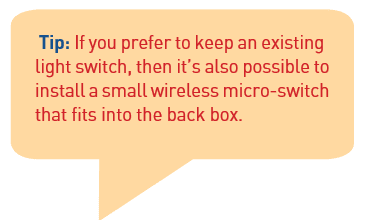 Implementation Example 2 – Set-up Motion Activated Lighting Control in the Main Bathroom
Requirement: Olive and I are always 'giving out' to our three older kids to turn off the lights when they leave a room. This has met with limited success over the years! For some reason this minor, but the slightly annoying issue of leaving the light and ceiling fan on is most prominent in the main bathroom. One of my little DIY projects over the Christmas holiday period last year was to add the following automated functions to the bathroom: Automatically turn on the light and fan when any family members go into the bathroom. Turn the light and fan off again 30 seconds after they leave.
The Solution: The items of equipment used are illustrated below.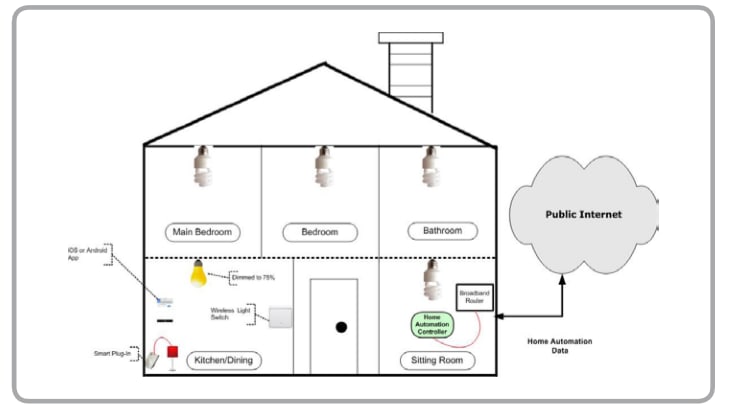 A passive infrared (PIR) motion sensor, in this case, was installed on the bathroom wall.
Rather than changing my existing light switch, a small wireless micro-switch got installed inside the backbox of the light switch.
I programmed both the PIR and micro-switch on my existing Smart Home controller to do the following:

When the PIR senses motion, it automatically communicates wirelessly with the Smart Home controller.
The Smart Home controller is then configured to issue an ON command to the microswitch, which in turn powers the light fixture and the fan.
Once motion is undetected for a configurable period of time (In our case we choose 30 seconds), the controller subsequently sends an OFF command to the wireless switch to stop passing current to the bathroom light and the fan.
The benefits (although small when you compare to what's going on in the world) include:
A reduction in the amount of electricity used when the bathroom is unoccupied, to eliminating the hassle of feeling around for a switch in the dark.
We are giving out fewer reminders to the kids now!
Implementation Example 3 – Control All the Lights in the House from an App
Requirement: Rather than going into each room at night before heading to bed, I like the idea of tapping a single ALL OFF icon on my smartphone app before going to sleep. As such, I set up an ALL OFF scene on my existing hub earlier in the year.
Solution: The components that I use, are below.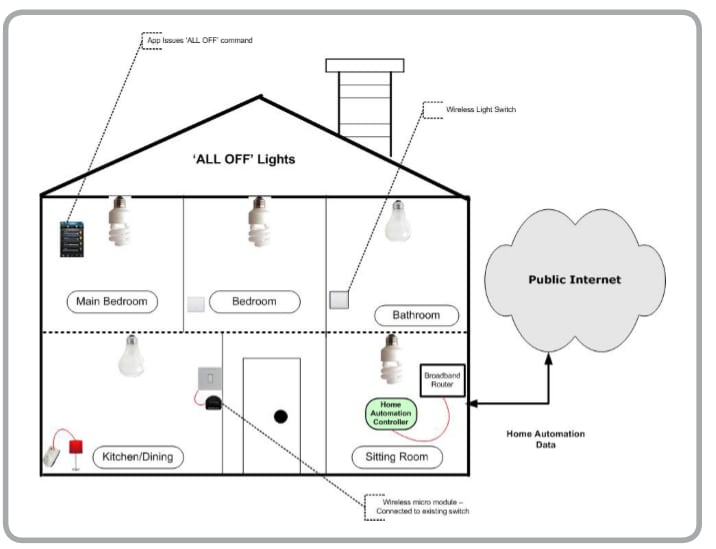 Before going ahead and setting up this function, make sure that you have added either wireless or wired control functionality to each of your lighting circuits. Use a certified electrician if you are not comfortable working with high voltage circuits – which is the case for most people. In my case, all of my lighting circuits were controllable.
Setup was simple and only involved configuring an ALL OFF scene called "Goodnight" on my hub.
I also configured an 'ALL ON' scene, which as the name implies turns on every light on the house instantly. It's more of a safety feature that I could use if something serious happened in the middle of the night. 'Touchwood' this scene never gets activated.
So at night, I am typically the last family member to go to bed, I tap the "Goodnight" icon within my App, and every light in the house gets switched off! Now that's what I call laziness!
Implementation Example 4 – Dark House in Evening
Requirement: My wife Olive hates coming back to a dark house – particularly in windy and cold winter evenings here in Ireland. I was given the task of coming up with a
Solution: Pretty easy to do:
I got a local handyman who helps me out from time to time to replace the existing switch used to control the porch light with wireless ON/OFF switch.
As with all new wireless products, I included the new switch in the in-home wireless network.
I created a scene called 'Arriving home', which turns on the outside porch light automatically at sunset during the winter months.
Works a treat!
Smart Lighting Things to Remember
Inside this article, you learned about both wired and wireless lighting control systems – here are the key take-home points to remember:
Lighting control enhances the enjoyment and value of your home, adds security for peace of mind, and contributes to savings on your electricity bill.
Lighting control can be used as a mechanism to deter crime at your home and provides you with the ability to use a smartphone, PC browser, or tablet to control the lights in your home.
Hardwired lighting control systems are suitable for extensions and new builds.
If you are like most of us and did not run Cat5 cable to your light switches, then affordable Z-Wave, Zigbee, or INSTEON light switches, dimmers, and plug-in outlets are the solution.
Many of the wireless lighting control systems are designed for at-home doityourselfers; so they are pretty easy to set up and configure.
If you do not have enough electrical skills, hire-an electrician for a couple of hours to install your wireless micro-switches and HA 2.0 enabled switches and dimmers.
Cost savings, improved home safety, easy setup, and having fun controlling lights on your smartphone are the key benefits of smart bulbs.